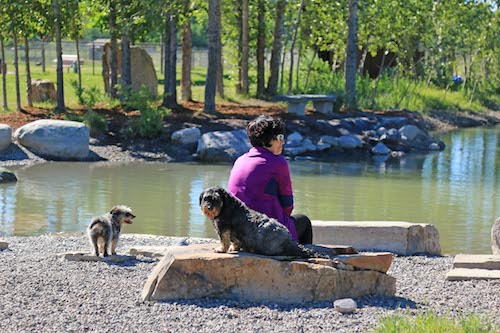 In 2009, the Hugh Rogers WAG Dog Park opened in Whitefish Montana.  Between 2009 and 2014, trails were expanded, a pavilion was built and dog pond was created.  In 2017 we were ready for more changes.
With every non-profit community organization, change occurs after fundraising. So this year, after a dedicated fundraising campaign by Whitefish Animal Group, Beargrass partnered with River Design Group to add a new feature to the dog park pond.
New Creek from Pond to Wetland
We now have a creek that runs from the pond to a local wetland. This enables us to have greater control of the water height in the pond and allows us to refresh the water through an artesian well.  Large treed rock and gravel features in the creek, whether wet or dry, add a fun new element for dogs to explore.
Obstacle Course Improvements
We also revamped the obstacle course area, adding a few new features and increasing the size of the tunnel berm. Not only do the new features benefit the dogs, visually they add exciting new dimensions for the park and provide more areas of shade.  Construction is finished and once the sod is established the new features will open in the spring of 2018.
In the Press: One of  the Top Dog Parks
In 2015  we made the top ten of US dog parks in a USA Today article: 10 Best: Amazing dog parks across the USA.  We are gunning to move up that list to number one with our new features.
Another personal achievement was an April 2016 article in my industry magazine, Landscape Architecture Magazine called "Dogs are the new kids". The Whitefish Dog park was well featured in the article.
In 2017, Citylab also featured our work in an article called. "The Anatomy of a Great Dog Park.".
I am absolutely honoured to see such press about our dog park designs.