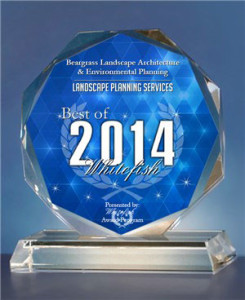 We have been awarded the 2014 Best of Whitefish Award for Landscape Planning Services.  We are very pleased to have been selected as a leader in our field and a contributor to high standards of business excellence in Whitefish, Montana.
For details and more information please view the White Fish Awards press release:
 2014 Best of Whitefish Awards – Landscape Planning Services
Some of our new landscaping work in Whitefish this year includes Dog Park facilities design.
Find out more about our work by visiting our landscape design portfolio.