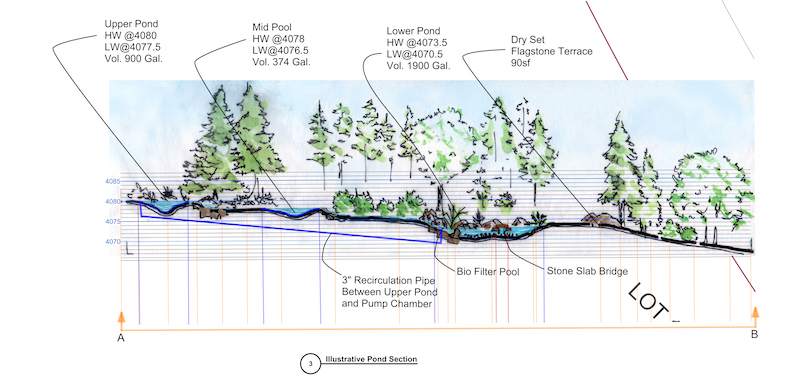 Steep Lakeside Lot with Stream, Pond & Native Plant Restoration
The Larsen residence design really is a great synthesis of client, Landscape architect and contractor. The architect had designed a house on a steep lot in the Iron Horse subdivision in Whitefish overlooking Whitefish Lake.
On the lake side, much of the property's native plant habitat remained intact. However, with utility, water and sewage, we had a significant amount of native plant restoration on the lower portion of the lot.
Native Trees, Shrubs, Forbs and Non-Native perennials
My contractor Mark Winchell of Landscapes North and his crew planted over 50 native trees, 200 native and ornamental shrubs and over 400 native forbs and non-native perennials. In addition, we over-seeded with a custom seed mix that included native grasses, shrubs and forbs.
Mountain Stream and Pond Design
Another challenging part of the project was to create a natural looking mountain stream and pond. This pond and creek had extensive biofilters, and recirculated the water from top to bottom. The design solved some unique site challenges and was instrumental in showcasing this exquisite mountain home.
Stream pre-construction and post-construction: